Well I thought it time to start a thread on my car.
I while back I needed a change so decided to sell off my TE50 Falcon garage queen and go on the hunt for a track day car. I've always had and still have Escorts and Cortinas but theres always been a soft spot for Dai's after owning a couple of Charades and Applauses as well as being on the old Daiclub forum.
I've always been on the lookout for a GTti but they're few and far between and the ones that have come up over the years were out of my price range. Enter this one that came up on My105.com.
As it stands today.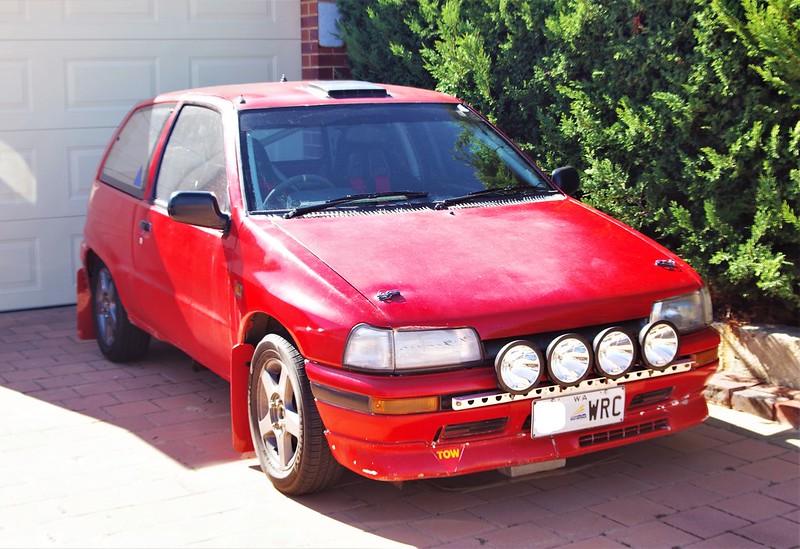 It was imported from the UK in the mid nineties, built and logbooked locally. It has quite a bit of history in a number of hands with a couple of Rally Australia outings in the logbook
A few specs of the car, I can take no credit for the build as I just purchased it.
Shell - Tower to tower cage
- Seam welded and gusseted
-Brake, braided fuel lines and wiring run internally
Mechanical - Crossmembers and suspension arms seam welded and gusseted
-Proflex coilovers
-Quickrack
- Close ratio box and LSD
-Currently on 15psi
-Hydraulic handbrake
So far in my hands I've rebuilt the bottom end with forged pistons, X-beam rods and a custom multi layer head gasket as we had no choice but to deck the block. Much thanks to GTti developments for the help, parts and advice. The head was done before I purchased it so that was left alone.
As I'll be using it on tarmac for club sprints and motorkhana's I've removed the sump guard, an epic piece of kit that weighed 15kg and could have withstood a nuclear blast


The under body rubber protection was also removed saving another 20kg.
I've repositioned the auxiliary gauges, pedals and seat to suit my 6'2 frame. It takes a bit to get into but once I'm there I've got good head clearance, line of sight and reach with the seat doing all the work/ support.
So what next?
With time on my hands I'm gently putting some hours on the engine at the moment, on the road, before I wind it right up. The season is all a but over with all the restrictions at the moment but I'll start doing some tuning days at Barbagallo raceway when they resume before starting a fresh for next year/ season.
I'd also like freshen it up with some new paint, more than likely in works style livery.
A couple more pics from the day I bought it. My mate that picked it up with me commented "Geez its an angry little thing" The little angry man name stuck after that.