Hello cuore L701 has cabin filter for aircondition and where it is?
If it has, It must be located under the wipers, under the plactic trim, at the driver's side.
But, let me ask you something, you have a problem with your engine, with that "tik tik" sound, now I don't know if the problem is big or small, but you have one, more or less. And are you worring about the cabin filter? Realy now?
It isnt the same.
Your car has a filter?
I want to know everything about the car i driving
Look Jimmy, I'm trying to help here. I'm telling you where it must be located, if it has one. Some companies prodused some cabin filters for my Sirion, but Daihatsu never produced one. I never used one of those, so I do not know if it fits. But under the plastic trim, under the front wipers, at the driver's side (left side) is the inlet for the air that comes into the cabin. It's good an all, that you want to know every little thing about your car. I respect that, I realy do. But the air filter is a small thing, comparing it to the engine's problem. That's my opinion. Focus on the big problem, then solve the small ones.

M100 has the same under dash unit as L700/701. Chances are they are identical. I replaced one in my Sirion. They are available in Australia
@DaleJeffree Strange, my car manual does not say anything about that for my M100. Thanks for the tip!
Do you have to remove the dash to replace the filter? Which are the steps?
The filter is access via a small panel from under the dash in the passenger footwell. No need to remove the dash.
@DaleJeffree Is it behind a plastic black cover behind the ashtray and lighter?
Do you have the PDF of the Cuore manuals yet?
Here is an example of the 2005 Copen A/C filter swap out;

Have a look there?
Otherwise it might be like the Move or Terios and you have to pull the glove compartment out to access the filter;


@BoldEagle Thank you man!
It's true what they say, every day you learn something new!

As they say - the first sign of wisdom is realising you know nothing at all. Thus we should try to find basis and or substance to anything we want to state and have a 'supporting' basis?!?
Model to model will be different and I bet year to year (mostly if there is a significant body change).
Either way looking in the passenger foot well with your head upside down (or taking a pic with your smart phone) is a meaningful starting point and looking for a a hatch.
@BoldEagle Oh, yes. I said that there was NO air filter because I checked the manual and didn't say anything about one.

I will look for it behind the glove box at the passenger side.

Also, while we are at it. It seems I cannot find the fuel filter at the engine bay nor at the bottom of M100. Do you have any idea where this might be located?

The fuel filter is in fuel tank up in the fuel pump.
@dmpatanis Question, did you find the tube gaskets, for the valve cover? If you didn't, I asked my mechanic. He said that he can buy them for you if you like.
PM me for more info.
Which engine the EJ-DE? Either way as @dmpatanis indicates for a 2001 L700 Cuore it is at the bottom of the fuel pump assembly in the tank (makes sense you want to filter crap before it enters and potentially blocks the pump). Here is the L700 with an EJ-DE engine;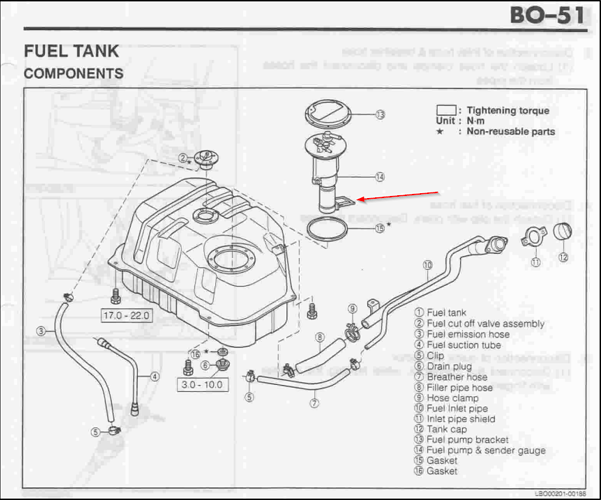 They are exy to replace with a stock unit and you would consider an aftermarket for savings.
The only M100 manual I have is in Russian but shows the same set-up;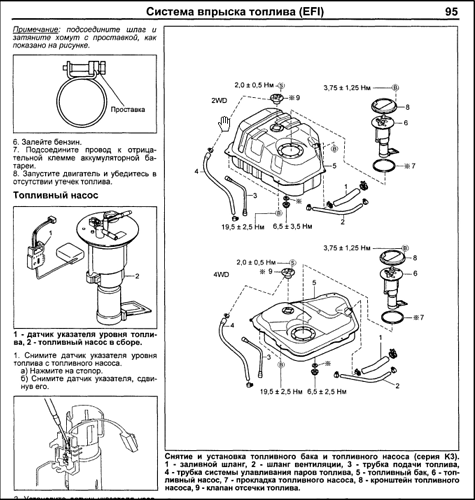 Here is an example unit;
https://www.megaparts.eu/en/product/1240095599
On the facebook group they were being discussed and people suggested some good brands.
Thanks but I can find it (seal for spark tubes) in a shop with belts and seals for automobiles here in my place.