Thanks for the "get well soons!".
So Gorsmby is back home and can't do a real lot as yet. He's got next week off work but will be taking it easy. Might be a good time to review some bits and pieces.
In looking for a new efi fuel pump that would be compatible with E85 most options seemed to have way to much capacity. Even the 255lph in-tank pump which was at the lower end of the flow rate of available aftermarket automotive options was going to be overkill. Since there is no point drawing extra power and pumping excess fuel around in circles (which creates heat), the search moved to aftermarket motorcycle pumps.


This one was ordered sight unseen and was spec'd for an Aprillia RS4V (the place selling them seem to sell the same pump for most efi bikes only changing the supplied fuel mat/strainer). $40 delivered on ebay this Kemso pump may be a big risk, we shall see. Sitting next to the original pump, other than colour, the thing is identical in every way.
Just had a google of thst pump, doesn't seem to be any overtly negative reviews so you might have sourced a winner there mate… Gormsby always setting trends!
Still not able to do much. Here's an old picture of an ej-de head cut through the middle of an inlet and exhuast valve. Gormsby also did this to an ef-el when he was playing with them. One benefit is that you can get a better idea of where work is needed inside, next it helps to understand the cooling (esp casting wall thicknesses) and the best part is being able to do dummy set ups. This last point means being able to fit the cut head to a block simulating final gasket thickness and checking piston and valve clearances without relying on Plasticine impressions. Of course keeping both sides helps and the other end lets you look from the inside out towards the manifolds.

Great idea - I should do this to an H-Series head.
And again to show the other side

Note the inlet track, ii gives the air flow a somewhat vertical path, bucket/shim cam over valve actuation and that the angle between the valves is narrow to give a tight combustion chamber. It is very similar to Cosworth's tried and true efforts (Honda too picked up on the same basics completely independently of Cosworth at the same time in history - Cosworth tthough for open wheelers and Honda for motorbikes. The history of how we got to this design is well documented in this really well written book, Classic Motorcycle Race Engines: Expert Technical Analysis of the World's Great Power Units – January 1, 2013
by Kevin Cameron)

Nissan SR20 high port for comparision


Toyota 4AGE

Go back through this thread and you'll see info on rear L200 springs. This info is retrospective in its relation to this build since you may have seen this car now has adjustable spring seats. First picture is of Gormsby's red spare chassis looking up at a spring seat. These thick seats go so grind off, drill out spot welds drilled out or apply fairy dust to loosen them

Next pic is the top view of the custom replacement seat. The boss in the middle is to help transfer some weight to the floor, stop the seat moving about and it locates 10mm or so away from a factory hole which helps measuring for where they go either side

Flip it over and this is the side the spring will sit on. Not seen here but a HDPE 1.5mm big washer/spring seat was installed so there was no metal to metal contact (just make all a bit quieter). Now a larger ring can be seen. It is not concentric with the tube/ring that was seen on the other side. This is the new spring locator and its diameter suits 2 1/2 inch springs with closed and ground ends (coilover type springs). No more details provided here on what spring. Don't ask. Go back and read earlier info. Do your homework. Yes @Daniel_Davies I am a Dick and I can't wait to read more of your fictional writing on springs (I'm tired grumpy and still not well - bored too so I write dribble here and there).


Now we can see some damn awful welding (and the white HDPE spring seat). This is a pic of it in the car. No need to weld the custom seat to the floor even though the original ones were. The bolt and boss locate it and spring pressure causes friction between the seat and chassis to reduce chance of movement.


Last picture could be a bit confusing. Here the floor has been cut out of the car (this part of the mod shown before so if you've read this right through you'll get it). The cut out was kept as these show where the seats will go in tt another body and they will help to measure up where to mount and what to do a second time. Think of the last image as a template. The hole about 30mm in diameter was created to locate the boss on the top of the spring seat. The 10mm hole seen inside the 30mm hole is an inner pressing that the top of the boss bolted to. Perhaps further info could be added. No more will be said no questions answered unless we have talked before about this.


If you can't figure out how to replicate this on your own then you should not be attempting it.
Here we have the other end the spring goes into, of course, the trailing arm. The bump stops have been removed. Why? Well those pressings that were cut out are what used to make contact with the bump stop. Running tall bump stops was considered. This made it to hard to get the springs out easily, and the stops are heavy. Instead the dampers/shocks have the bump stop placed on them (all shown earlier, remember they are vertical and not inclined like factory). The bump stops are replaced with a simple spring locating device. It has a rubber that contacts the spring ID and a big rubber seat for the bottom of the spring (just stops a bit of knocking sounds - at the time this was done it was a road car)


Here we go installed. Note vertical damper. Bump stop is up high on the shock shaft (yes a loose bolt seen there). And chassis spring seat is not the plate we were looking at but threaded for corner weight and height adjustment.


Here we have the springs in 2 1/2" ID. They are not a pair. Rather these show two different rates used. There is 50lb diff between them. Having some different options on the shelf helps tunning. For now these are dry course set up (stiffer) and wet course set up (softer). Can you tell which one is the stiffer option? It has thicker wire. Though black they are from diff manufacturers.


And the spring in its seat, showing how little space it takes


Alas a bad day pain wise. Still off work ill. Thought I might at least even be able to do some light electrical but not so. Have had a couple of good hours and only just good to sit now and punch this out.
Excuse me Admin; seems the "LIKE" button only allows me like a post once. The work being shared here is too good just for one like.
Love the mods you're doing @Mr_Gormsby
Think twice about doing this. Way to much time is going into fitting AN6 lines. Well, perhaps under normal circumstances it would be okay. Not being well and having time off work has not meant any fast tracking on this. Instead it has meant, getting two weeks behind and now into the third week there's been a couple of hours on Sunday and a couple of hours today doing some light duties. Well what is it you should perhaps think twice about doing? Going from push-on fitting to AN fittings. AN is a designation that originally referred to Army and Navy and are sometimes called "dash" fittings. The best short history was written by Carroll Smith in either Tune to Win, Prepare to Win or Engineer to Win. For AN6 the size is a reference to 6 x 1/16", and AN8 would be 8 x 1/16". The system is not as straight forward as it might initially seem. There are different options in hard line. In the flex line there are a couple of braiding variations and within those variations are rubber or teflon liners. So there is a gamut of fittings. It has been said in this thread before "beware Chinese and Aeroflow fittings". Earls, Raceworks (just got some of these for the first time and seem okay), Speedflow and some Fragola (not their items that connect to hoses but some firewall breaches). Time is needed to attend to the required detail. There are no short-cuts, in this instance we are dealing with fuel. Below shows an EJ-DE fuel rail. The bolt on connection has had its ears/M6 bolt holes machined off, has been drilled out to 16.5mm and tapped for an M18x1.5 to AN6 fitting. So fuel gets to here from an under bonnet common Bosch EFI filter that takes screw in AN6 fittings. On the opposite side the fuel return had been added to the blanked off end for an M12x1 to AN6 fitting. Of course this goes to AN fittings on the regulator. Hard anodised lines go the the fuel pump carrier. This was a huge pain to set up. To discourage others from attempting this there will be no other pictures or info on any of this. Sufficent has been shared. If you must have a go, intelligent questions will be answered. There has been a lot of custom fabrication. If you have done this sort of work before, of course no one will hold you back. But if you haven't done this sort of thing allow $500 of installed lines and fittings (more if you buy to many bits or the wrong ones), and you had better have the tools and comprehensive workshop (hoist or proper full ramps a plus). Prob no more info post until at least this weekend coming.


Good 90 fitting. A 90 degree Raceworks. Considered acceptable for this project and used in some spots. Not as good as Earls or Speedflow (these latter brands have nice internal finishes and are worth every cent).


Now a Chinese fitting. Note the thin section through the bend. They are prone to fracture. Like "stance cars" they are cool for the unititated observer, but damn dangerous in use.

Yep, couldn't agree with you more Gormsby… Many an argument have been has by me with people about cheap shitty Chinese parts, but unfortunately people rarely learn…
''The bitterness of poor quality remains long after the sweetness of low price is forgotten.'' - Benjamin Franklin…
So with three weeks of sick leave behind Gormsby, and feeling almost back to normal, he got back into Mira associated things. First up was to collect a near on abandoned Mira (thanks Sebastian for the car and thanks to your Dad (Rick) and Mark G for helping cut it up and load onto the ute.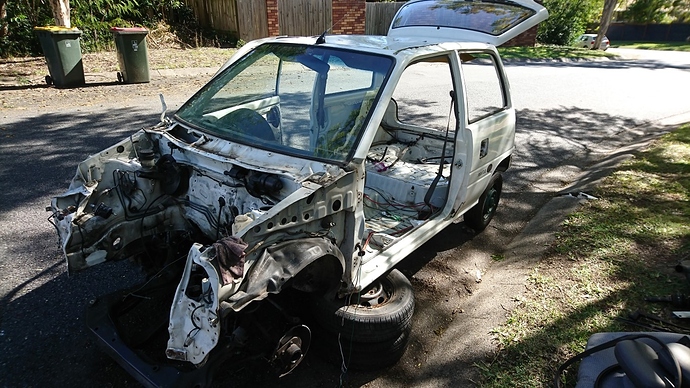 Although getting back to working on the race car was pretty important some bits from the wreck were needed.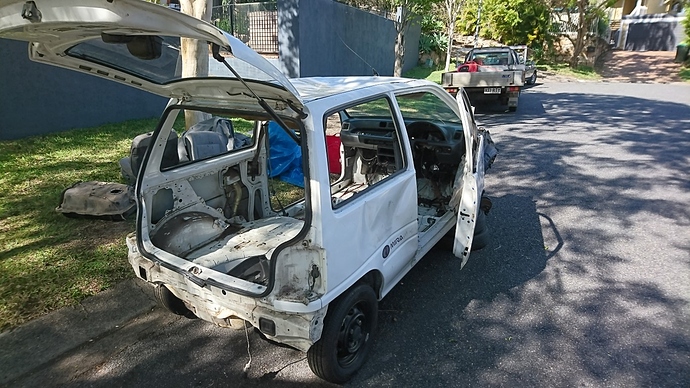 The good car is destine to have the inner front guards lifted to fit the bigger tires so the wreck will provide some of the sheet metal, and the front cut of the donar car was needed to look at a dummy set up for using L251 control arms at some point.
Yep that's one Ikea style flate packed L200 in the back of an old Ford Trader.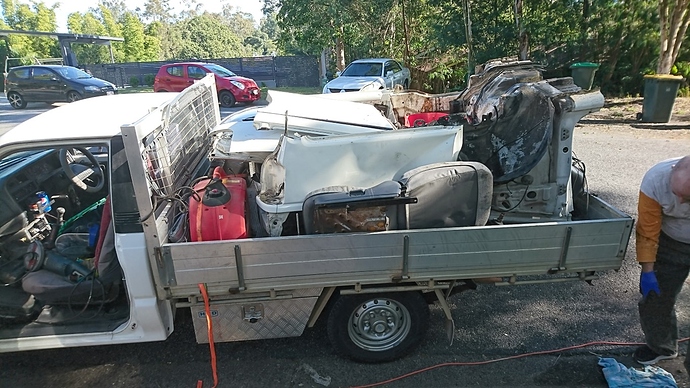 Gormsby is not sure how much of the body work modifications he will end up documenting here. It might be that some pictures are provided without explanation. There is a lot of stuff played with and done on the car that goes undocumented. Sometimes the trial and error stuff is not explained and sometimes the camera is not fired up and I forget. An example of this was some time spent light-weighting a crankshaft and drilling out the crank big ends to reduce reciprocating weight. Big job for a small home machine shop.
awww i hope seb removed the loom i have paid for
Oh, the engine and, I guess engine loom looked like they were under cover on the footpath. Otherwise everything else save some small sections of body work, trailing arms and subframe are already gone to metal scrap. He should be back from Japan in a few days
Sick leave mumbo jumbo!
Good to see you are well enough to do some work on the Mira again.
I wouldn't count on old Gormsby going AWOL boys. I haven't had a day of sick leave in my life. You won't find me running off to the P.P.T. bloody A, going on strike, holding balloons, singing nursery rhymes so I can get a payrise, extra holidays, tangi leave… and a warm flannel to wipe my boyfriend's bottom with!
Oh the shame! Gormsby may never live this down. Might have to tease him for a while by calling him "Steve or Mudgeway".
Oh good to hear ,thank you Mr G
A little progress today. Slots milled in the lock rings and spring seats (all ganged together on a threaded strut leg). Six slots and should have been 60deg apart. This is a slow and tedious job on a manual mill, even with an X axis autofeed.


Hopefully tomorrow's job will be threading the ID on the open end seen in the image to accept a M43 x 1 glare nut which holds the Koni internals in.
Will the Koni insert being used have adjustsble dampening?
External rebound via the strut top. But also attempting to see if external bump control can be added at the base.