SIRION RALLY 2 & RALLY 4 – DEVELOPMENT – TESTING – CERTIFICATION – MANUFACTURE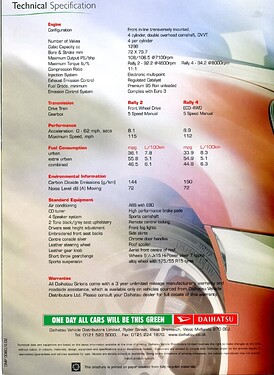 The original brief from International Motors was to find some simple ways to make the 1.3SL go faster, handle better and be more pleasurable to drive, without drastically changing emissions or mileage. However, all of this had to be able to be supplied on a very tight budget.
We initially tried a piggy back ECU which initially worked well on the dyno but after a few days the OE ECU had accounted for the piggy back settings and returned to original.
We then looked at the exhaust cam and with a mild increase in overlap duration, it seemed to work on paper. We had a cam reground with appropriate shims and saw an improvement on the dyno with very little in extra emissions. We saw around 8 BHP increase and Carbon Dioxide emissions only raised a small amount to 144g/km.
We then looked at air filters, trying some aftermarket free flow panel filters directly replacing the OE filter. We also tested cone filters that sounded great and miserably failed the drive by homologation noise level requirements.
Suspension springs were lowered and uprated that worked well for both front wheel drive and four wheel drive.
When playing around with the suspension we used a 16mm rear anti roll bar on the front wheel drive Rally 2, which worked very well. Unfortunately, it took costs over budget and was only available as an option, which was not normally taken up by new purchasers.
We had race spec' compound (DS 2500) brake pads made for us by Ferodo specifically for the Sirion.
Gear linkage was modified giving a far slicker shorter shift.
An aluminium checker plate foot rest was fabricated.
The OE Steering Wheel was leather covered in black with red stitching.
The OE Gear Knob was leather covered in black with red stitching.
A black leather gear lever gaiter was included.
Both front seat squabs were embroidered with either the Rally 2 or Rally 4 logo.
Items we did not develop and supply were; 4 x Rally2 or Rally 4 decals and 5½Jx15 wheels which were sourced from Team Dynamics/Rimstock with Continental Contisport tyres.
We then took the cars through long winded homologation certification.
All of the equipment was shipped to the International Motors UK import docks for the personnel there to install. The first few cars had to have their rear wheel arches rolled to accommodate the tyres, until the wheel offset was sorted. Installing at import docks counts as "factory built". All Rally2 and Rally 4 started life as either a Sirion 1.3SL or a Sirion 4trak.
YRV Turbo 130 Build Story to Follow Soon.