Hi my name is Justin and I've recently bought a green 3 door L700 in need of some TLC. After looking at all the cuore's for sale in the country. I found this beauty. She had a bit of a drinking problem (the oily kind). On the way back home about a 160 km she drank a liter of oil. I was like must be the oil scraping rings being charred. So out went the spark plugs to pour some ATF on top of the pistons so it could soak in between the piston rings. A few days later i came back to check on her, most of the ATF had seeped past the rings. I removed the last bit off fluid with a tube by sucking it out of the chamber. After starting her up she started blowing massive white smoke clouds which went away after a little drive but she was still using oil. After a little furter diagnosis in the intake en exhaust manifold it became clear that she was very sick.
So I called my mate about our school project from a few years ago. Because back then we had bought a green 5 door L700 with some oil consumption and did a full rebuild on that motor. We also went a head and did some turbo prep. But only on the exhaust maninfold and oiling system. I digress I called to ask about the state off the engine for a quick swap as the car had a little meet with the guard rail on the Nordschleife.
In short the engine was fine it just had bad DVVT tick at idle. So over the next weekend i pulled the engine out en swapped the it with transmisson and engine. With the old engine out I'm still contemplating on what to do with that one. For now she drives great.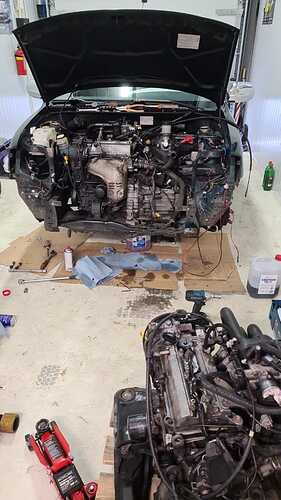 I will keep you guys updated on the build