Hi All,
I wanted to document my resurrection of a UK market 2004 Sirion (Storia) M101 Rally II model. I bought this recently through another forum I run for £200, it had failed its MOT test on quite a few things, but I wanted a Covid 19 lockdown project to keep me occupied and this seemed perfect. Its by no means finished, but I wanted to document things so far.
With the car lacking an MOT, I had it delivered to me by a friend who is a professional vehicle transporter for a very reasonable sum. The previous (failed) MOT test identified several issues:
Idle speed was really high, stuck at about 2000rpm once warmed up. This made taking an emissions reading impossible
The rear exhaust section had rusted through as it went over the back axle
There was some pretty severe corrosion around the rear chassis rail sections which are within 30cm of both the rear seatbelt mounts and the rear suspension mounts
All 4 tyres were really old and cracked
The price was low enough that I could take a chance on it, it didn't seem too far gone and this particular model, with the 110bhp variant of the K3-VE2 engine is really rare in the UK now, with only 30 left on the road.
Having got it home, I got it up on my scissor lift in the garage and had a good look at what I had to contend with. In addition to the bits I knew about, I could see the rear dampers were totally shot to bits, the headlights had a bad case of cataracts and it had the EML on for an as-yet unknown reason. Time to collate a list of all the things I needed to do to get it back on the road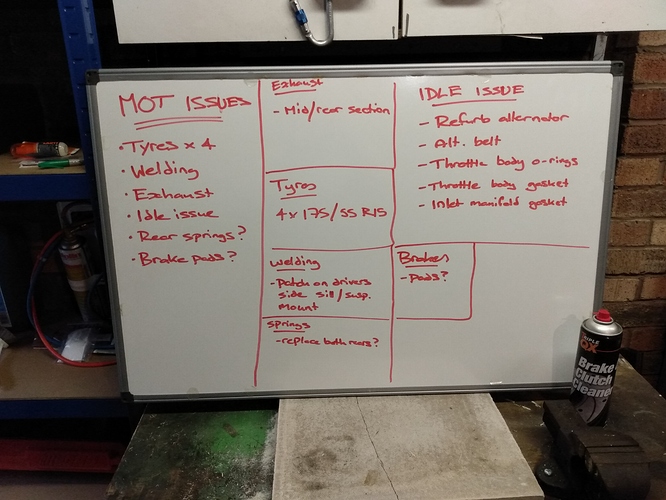 I was a bit concerned about sourcing parts as Daihatsu pulled out of Europe in 2013, but turns out I didn't need to worry! Plenty is available aftermarket and there is quite a bit shared with the contemporary Toyota Yaris, an automotive cockroach.