Hi everyone,
After a few days enjoying the cuore ive thought over some plans for dexter the cuore.
I plan to keep the car road worthy though, as it is my daily car and need it for my daily commute during the summer. So no big changes will happen during the summer.
But the plans for the summer are,
help the car get over his fear of heights by lowering it with lowered springs(30mm).
fix small dents.
fix all easy to find rust.
get it alligned.
find a small subtle spoiler.
-adding window deflectors
I hope some of these mods will improve the handling of the car a bit more. I have to say some parts are really hard to get here in the Netherlands sadly.
Dexter currently looks like this: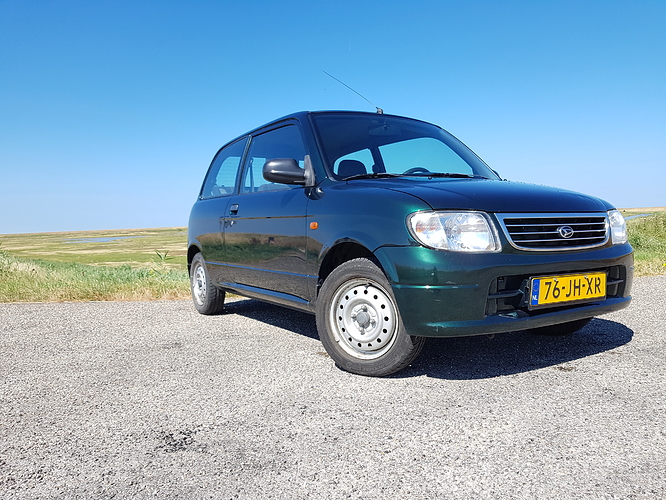 It has stock parking sensors (not very usefull though).
Central locking.
And no power steering.
In the winter im planning to fix some of the bigger problems like the paint. And some bad rust spots in the wheel wells and rear arches. I dont need the car in the winter so i can store it for a bit longer in the garage.
Bad spot, previous owner "fixed" it with hamerite green

: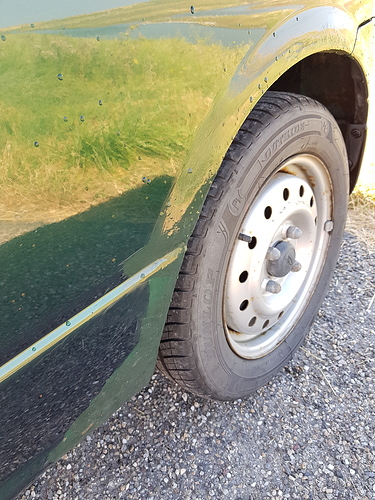 Other then fixing the rust and paint i also want to change:
upgrade brakes.
put on some 14" inch rims with a bit wider tires than stock.
maintenance to the engine.
moar powar mods? (Brakes and wheels first)
research handling mods.
Im not sure what to do with the engine yet. It already has enough power in the first three gears. But feels lacking power in 4th and 5th gear though.
But for now handling and safety is the number one priority for me.
Also im afraid i have to do a lot of engine mods myself and considering buying a spare engine to expirement on first as i dont have a lot of in depth technical engine knowledge. I can bolt things down. And follow manuals pretty well though haha.
I would like some feedback on the mods im going to do such as the lowering. And how much does it increase handling with lowering springs and stock dampers? And what can i do to improve handling even more?
I keep you all posted on the progress